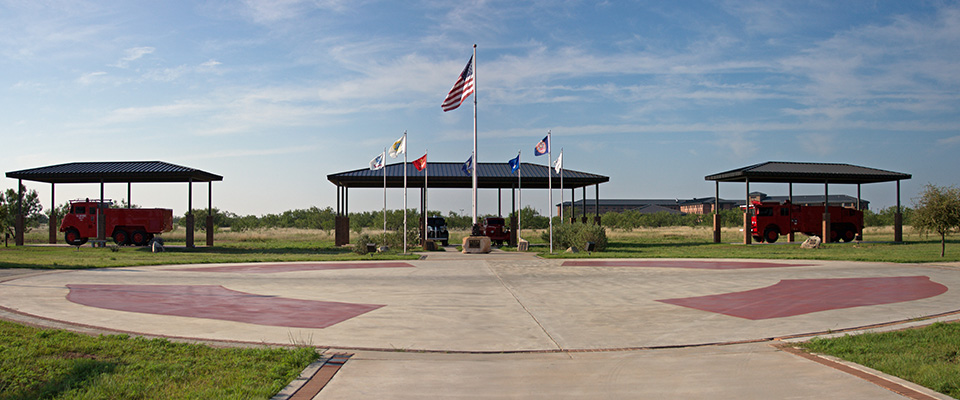 In March of 2001, all that was visible in a barren field from the fire academy, to billeting on Goodfellow AFB, was the troop walk, which the fire academy students march to school on every day. The former commander of the 312th training squadron, Col Pat Smith had a vision, a vision to restore and display the 6 vintage fire trucks brought down from Chanute AFB, Ill when the fire school relocated to Goodfellow in 1993, lining the troop walk and establishing an area to remember and honor those who have made the ultimate sacrifice trying to save the lives of others.
In March 2001, the Military Firefighter Heritage Foundation was formed and incorporated in the state of Texas. as a non-profit group. the foundation first raised the needed funds to refurbish these 6 historic firefighting vehicles. But the foundation could not have accomplished this on their own, without the support of base leadership these displays would still be a dream. Then the task of raising the funds for the DoD fallen firefighter memorial, to stand as a symbol for all to see and to remember those who have paid the ultimate sacrifice serving our great country as a DoD firefighter.
Col Smith, your vision is a reality!
This work, while impressive, will continue to grow, as the vision to honor and remember our rich heritage and fallen heroes is never ending. when the first pavilion was unveiled which houses the O-11, Col Pat Smith made the following comment, "when we ask the young men and women who graduate from the DoD fire academy to go into harm's way, when they are the first to face human tragedy, when they are the ones to make order out of chaos, three things will most likely make the difference: physical and mental toughness, personal courage, and esprit de corps. All of this effort is for them — to pass along a sense of heritage that binds them together when things get tough, so that they know the challenges they face as firefighters have been faced before by others." The Military Firefighter Heritage Foundation, the leadership and members of Goodfellow Air Force Base, members of the department of defense fire emergency services and the city of San Angelo would like to thank- you, for without your vision this would still be just a field with a troop walk, Col Smith, thank you.
Today, there are 14 vehicles on display the O-11, P-2, P-4, P-15, O-6, Ansul Dry Chem Jeep, P-12 Telesquirt, International Pumper, 530b, R-2, Magirus ladder truck, 2500l Macy, 1942 Ford Pumper, 1941 Mack 0-4 and currently a navy P-16 carrier crash truck is being refurbished.
We also have 1 helicopter on display a HH-43 Pedro. the foundation will continue to search for vintage military firefighting vehicles to add to the display. If you know the location of any vehicles, please let us know.