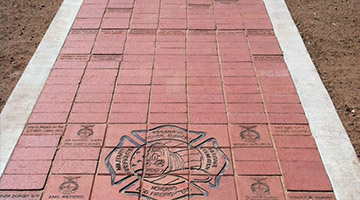 The Military Firefighter Heritage Foundation is seeking donations to help maintain the current exhibits, acquire and preserve future exhibits, and to help offset the cost of the memorial plaza; however, we feel that anyone who makes these donations should be recognized for their contributions. We are pleased to announce that we have resumed selling memorial bricks.
Thank you for your interest in purchasing a Memorial Walkway brick Bricks are available in two sizes. The standard 4"x8" brick may contain up to three lines of text with 18 characters in a line (spaces and punctuation count). Lettering is UPPERCASE and centered on the brick.
Pricing is as follows:
Individual = $50.00
Department = $100.00
DoD Fire Academy Class = $200.00
The 8"x8" bricks (a.k.a. logo bricks) may contain either a logo or six lines of text (18 characters in a line, spaces and punctuation count). If you wish to have a logo or artwork engraved, please send an electronic file (pdf. or jpg.) of your image to [email protected]. Remember to include your name and contact information.
Logo or 8"x8" Bricks = $250.00
When you order a brick, you will receive a certificate thanking you for your donation. If the brick is a gift in honor or in memory of someone, please include their name and address on the brick form. We will prepare and send a certificate to the person being honored or to the family of someone being remembered.
Questions regarding the purchase of bricks may be directed to: [email protected]. Bricks are ordered on a quarterly basis to help keep shipping costs down
If ordering via mail, send the completed order form with payment to:

Military Firefighter Heritage Foundation
P.O. Box 60241
San Angelo, TX 76906